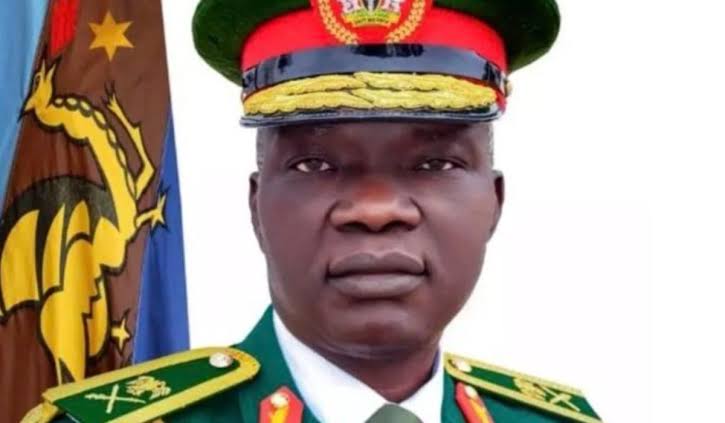 The Chief of Army Staff (COAS) Lieutenant General Taoreed Lagbaja, on Saturday visited Damaturu, Yobe State, in continuation of his operational tour of the North East Theatre Operations.
Lagbaja however, lauded troops for dismantling the terrorist's haven and also visited wounded troops hospitalized at the sick bay.
IdanNews learnt that Lagbaja was briefed by the Commander Sector 2, Major General Lander Saraso, on the security situation in Yobe and the ongoing clearance operations code-named "Operation Desert Sanity" to rid the Timbuktu Triangle of insurgents.
The army chief was also briefed on the Nigerian Army Special Forces School by the Commandant, Brigadier General Wara Bello Idris.
Addressing officers and soldiers of the sector, the army chief extolled the troops for their service to the nation and the successes of the ongoing operations, which he said, has demystified and deconstructed the notorious Timbuktu Triangle which hitherto was an enclave of the ISWAP/BH insurgents.
Lagbaja assured the troops that the challenges currently experienced in the sector will be given prompt and due attention. He encouraged the troops to freely communicate their concerns through appropriate channels, guaranteeing that they would always be granted an audience and accorded appropriate attention.
He charged the troops to avoid distractions, but remain disciplined and focus on their mission.
Lagbaja also visited officers and soldiers wounded in action and receiving medical attention at the Level ll Field Hospital, Damaturu. While praying for their speedy recuperation, Lagbaja reassured them of the Army Headquarters intervention in ensuring that they were given adequate medical attention, including medical evacuation for overseas treatment.
The COAS later proceeded on an inspection and assessment of the level of work at the new Army Barracks under construction in Damaturu.