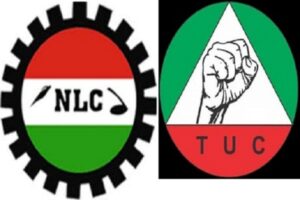 The National Industrial Court sitting in Abuja has restrained the Nigeria Labour Congress, Trade Union Congress as well and their affiliates from embarking on any strike or industrial action.
The unions had after an extraordinary National Executive Council meeting on Tuesday in Abuja declared a total nationwide strike from November 14, 2023.
The unions took the decision following the alleged assault on the NLC National President, Joe Ajaero last week in Imo State.
However, the Federal Government of Nigeria, the Attorney General of the Federation, and the Minister of Justice filed an ex-parte application praying to the court to stop the unions from embarking on the planned strike.
In the application, the FG and AGF told the court that the strike would inflict untold hardship on law-abiding citizens and their businesses.
Counsel for the Federal Government and the AGF, Tijani Gazali SAN during the proceedings on Friday argued that many Nigerians suffered when the labour unions during their demonstration on Thursday blocked the entrances to the main Airports in the country.
He pleaded with the court that unless the planned strike action is stopped, there may be a likelihood of a breach of peace and tranquility in the country.
In his ruling, the president of the Court, Justice Benedict Kanyip cited sections 17 and 19 of the National Industrial Court Act and ordered the unions to stop their nationwide strike.
"It is within the power of the court to intervene by way of restraining order to ensure peace and tranquility," he said.
Kanyip directed that the restraining order be pasted on the wall of the Labour House which is the last known address of the two defendants to draw their attention to the court's position.
The Judge also directed that the order along with the originating and other processes be served on the defendants by publication in two major national dailies.