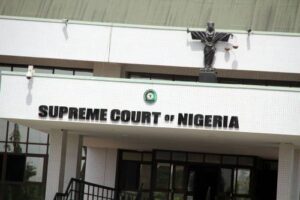 The Chief Justice of Nigeria, Justice Olukayode Ariwoola, will swear in 58 new Senior Advocates of Nigeria on Monday, November 27, 2023, as part of the programmes lined up to formally herald the 2023/2024 Legal Year of the apex court.
No fewer than 114 applications were received by the Legal Practitioners' Privileges Committee for the award of the rank of Senior Advocate of Nigeria in 2023.
The number was pruned down to 69 after a series of screenings. The LPPC cleared 58 successful candidates, out of which 57 are advocates while one is an academic.
Some of the successful applicants are human rights activist, Olukayode Ajulo; Funmi Falana, Felix Offia, Lawrence Falade, Kingsley Obamogie, Folasade Alli, Abiola Isiaq Oyebanji, Bomo Agbebi, Daniel Uruakpa, and Oseloka Osuigwe, among others.
A statement on Sunday by the Supreme Court's Director of Information, Dr Festus Akande, noted that the swearing-in would be held at the main courtroom of the Supreme Court.
Akande added: "In line with our age-long tradition, during the special court session, the Chief Justice of Nigeria will deliver a state-of-the-judiciary address to highlight the performance of the Supreme Court in particular, and the Nigerian judiciary in general, in the 2022/2023 Legal Year.
"In the same vein, other leading stakeholders in the justice sector will present speeches bordering on the state of the justice sector of the country. These include Honourable Attorney General of the Federation and Minister of Justice, Chairman of the Body of Senior Advocates of Nigeria, and President of the Nigerian Bar Association, among others."