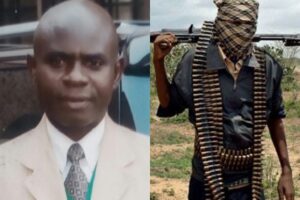 Unknown gunmen abduct, slaughter deputy registrar of the Federal Polytechnic, Uwana, Ebonyi State, Innocent Obi in Ezeala/Ezike autonomous community in Umuezeala, Ehime Mbano Local Government Area of Imo State.
The deceased, popularly known by villagers as Onye Army, was said to have retired from the military before joining the services of the Federal Polytechnic Uwana.
He was said to have also applied to be the next substantive registrar of the institution before his untimely death.
According to village sources, he travelled home to his Umuoboama village for the burial of a relative, who was killed in the Northeast as a soldier when he was abducted and killed.
It was further gathered no sooner had Obi retired to his family house in the village after the funeral last weekend when some hoodlums numbering over six had invaded his house around 10 pm.
The assailants were said to have operated in military and police uniforms.
"They broke through the main door and started using machetes and axes on him.
"His cry for help attracted villagers to the scene, but the boys who were operating on three motorcycles, started shooting consistently into the air.
"The shooting forced everybody who had come out for his rescue back. And they abducted Dee Onye Army from that Friday night, leaving heavy blood stains in the house," one of the villagers said.
The source continued that the villagers the following day on Saturday summoned a search party for him.
"It was late Sunday afternoon that we got information about a decomposing corpse lying between Ehime Mbano and Ahiazu Mbaise.
"When our people visited the scene that Sunday, it was the dead body of our brother, Dee Onye Army that we met.
"They gruesomely butchered him beyond recognition.
"Dee Onye Army was a man who ensured that any youth who wanted to go to school got admission. So many youths were given admissions in his school. He never lived like a rich man, always unassuming.
"In fact, it was now that he started building his own personal house in the village and that building is just within decking stage before his death," the villager said.
The incident is said to have left the community and its neighbours in fear following the reoccurrence of similar killings and other related criminal activities in the area, particularly the killing of about five security operatives in the area.
When contacted, the spokesman of the Imo State Police command, Henry Okoye, said he was yet to be briefed on the incident .