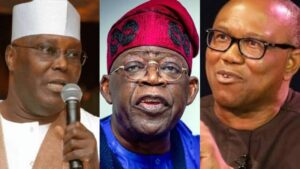 The presidential election tribunal has upheld the victory of President Bola Ahmed Tinubu in the February 25, 2023, presidential general election.
The PEPC ruled that the Labour Party LP and People Democratic Party PDP petition against All Progressives Congress APC and President Tinubu are "unmeritorious" because they failed to provide evidence to back their claims of electoral malpractice in the 2023 presidential election.
IdanNews reports that Justice Haruna Tsammani, the head of Presidential Election Petition Court declared that "This petition is hereby declared unmeritorious,"
Recall that President Tinubu (APC) had been declared president with approximately a third of the votes ahead of Atiku Abubakar of the People's Democratic Party (PDP) and Peter Obi of the Labour Party (LP).
However Abubakar and Obi in their separate cases had asked the court to invalidate the election, alleging irregularities
Justice Haruna Tsammani in his ruling rejected all claims made by Obi and Atiku, stating they failed to provide evidence to back their allegation against President Tinubu and APC, including fraud charges and allegations that Tinubu was ineligible to run.
Meanwhile, Atiku and Obi can appeal to the Supreme Court to dismiss the ruling of tribunal within 60 days of the date of the tribunal judgment.
Labour Party Rejects PEPT Judgement
The Labour Party In a statement by its National Publicity Secretary, Obiora Ifo has rejected the Presidential Election Petition Tribunal judgment delivered on its suit.
The court dismissed petitions by the party and its presidential candidate in the 2023 poll, Peter Obi.
Justice Haruna Tsammani stated that LP did not prove their cases against the election of President Bola Tinubu.
The statement read, "The Labour Party watched with dismay and trepidation the dismissal of petitions by the five-man panel of the Presidential Election Petition Court led by Justice Haruna Tsammani today and we reject the outcome of the judgment in its entirety because justice was not served and it did not reflect the law and the desire of the people.
"Nigerians were witnesses to the electoral robbery that took place on February 25, 2023, which was globally condemned but the Tribunal in its wisdom refused to accept the obvious.
"What is at stake is democracy and we will not relent until the people will prevail.
"We salute the doggedness of our team of lawyers who fearlessly exposed the wrath in our system. We can only weep for democracy in Nigeria but we refuse to give up on Nigeria."
He stated that details of the party's position would be presented after consultation with its lawyers when the certified true copy of the judgement is made available to them.
"We urge all lovers of democracy to remain focused and hopeful because a new Nigeria is possible," the statement further said.