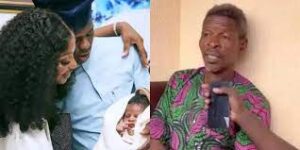 Mohbad's father on a viral video on saturday accused her daughter-in-law, Wunmi of using black magic to control his son not to remember or take care of him.
The father of the late musician stated that Wunmi just wanted Mohbad to take care of her and her family, buying properties in her name and causing Mohbad to disregard his own father.
He accused the wife of the late singer of lacing Mohbad's food with sleeping pills whenever she wanted to cheat, her cheating partners who he says are residents of the Marlian household.
When asked, he acknowledged that the couple were married traditionally and his family paid dowry for Wunmi.
Explaining the significance of the white cloth Wunmi threw into Mohbad's grave, he said it meant that she had covered him and now Mohbad could no longer expose her.
Mohbad's dad also narrated how he used to have his father-in-law's number, occasionally calling him to let him know of issues between the couple. However, when he complained about Mohbad's unwillingness to provide for him because of Wunmi, her father blocked him.
https://www.instagram.com/reel/Cy8sA_MoIdr/?utm_source=ig_web_copy_link&igshid=MzRlODBiNWFlZA==