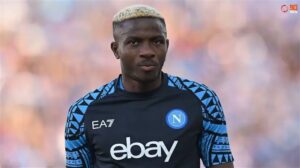 Nigeria's Super Eagles forward, Victor Osimhen, has finally broken the silence over a mocking TikTok video of him posted by his club side, Napoli, after missing a crucial penalty against Bologna last Sunday.
Following the incident, Osimhen recently took to his Instagram account to delete all Napoli-related content from his page.
However, despite featuring in 2 matches and scoring two goals after the incident, the now-deleted video has continued to spark reactions from Nigerians and sports lovers all over the world, with many condemning the team and labelling different accusations against the people of Napoli over the incident.
Reacting to the condemnations via a statement released by Osimhen on his Instagram account on Sunday, the forward said that the people of Napoli have shown him so much love since he arrived in 2020 and will not allow anyone to come between them.
He added that the accusations labelled against the people of the club are nothing but false.
He, however, expressed his appreciation to the people of his home country, Nigeria, for standing up for him during this period.
The statement reads, "Coming to the City of Naples in 2020 was a wonderful decision for me. The People of Naples have shown me so much love and kindness, and I will not allow anyone to come between us.
"The passion of the People of Naples fuels my fire to always play with my heart and soul, and the love for the badge is unwavering as I wear it with pride.
"The accusations against the People of Naples are untrue. I have a lot of friends who are Napolitans and have become part of my family and everyday life. I appreciate Nigerians and everyone for lending their voices to support and reach out to me. Thanks so much, I'm forever grateful.
"Let's continue to spread unity, respect and understanding. FORZA NAPOLI SEMPRE"