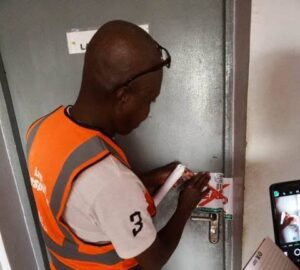 The Lagos State Blood Transfusion Service, LSBTS, on Sunday, shut down a private Hospital located at Ago-Okota in Oshodi-Isolo Local Government A Yirea of the State for collecting and transfusing unscreened blood.
The Executive Secretary of the LSBTS. Dr. Bodunrin Osikomaiya, who disclosed this Sunday said the health facility was sealed by LSBTS and the State Health Facilities Monitoring and Accreditation Agency (HEFAMAA) following a tip-off by a concerned citizen.
According to Osikomaiya, the hospital was engaging in unhealthy and unwholesome practices of collecting and transfusing unscreened and unlabelled blood to unsuspecting patients.
"A concerned citizen had reached out to us to report the unwholesome practices of the facility. Following the tip-off, and after thorough investigations, the enforcement teams of LSBTS and HEFAMAA, during their joint monitoring exercise in the area, visited the facility and confirmed to be true, the unwholesome, unprofessional and unethical medical practices and conduct of the hospital management.
Osikomaiya added that the facility was shut for contravening the blood transfusion service law and for their unethical and unprofessional medical practice as well as putting the lives of unsuspecting citizens at risk.
In her words, "This facility was sealed for contravening the provision of the Blood Transfusion Service law, specifically, law 10, item 31 which states that no person within Lagos State shall transfuse blood into a patient unless such blood has been screened, tested, labelled by the state blood transfusion committee, and found to be negative for all transmissible diseases including HIV I and II, Hepatitis B and C, Syphilis and any other disease as may be deemed necessary by LSBTS".
The Executive Secretary explained further that the details of the blood donors and transfusion recipients have been retrieved from the management of the facility, adding that citizens who had been transfused with unscreened units of blood at the facility are being traced as part of the protocol, to know their clinical health status, ascertain and ensure their health safety.
She noted that the management of the hospital and workers found culpable in the unwholesome act would be prosecuted by appropriate laws.
While noting that regulatory, monitoring and enforcement activities are one of the core mandates of the Blood Transfusion Service, Osikomaiya stated that the Agency has rejigged its strategies in sanitizing the State against unethical blood transfusion practices and has continued to wage war against unwholesome practice of transfusing unscreened blood in Lagos State.
She said: "The Lagos State Blood Transfusion Service was established with a mandate to provide safe blood and blood products for all who require it in accredited health facilities. This mandate is actualised through the active recruitment of voluntary blood donors, screening of every unit of blood for transfusion-transmissible infection, efficient processing of blood, and appropriate clinical use of blood.
"In ensuring that only safe blood is transfused in the State, the LSBTS routinely monitors all private and public blood banks, blood donation centres, facilities that transfuse blood and blood products, screening centres and blood logistics companies in the state to ensure compliance with the law.
"In addition, it ensures that all blood and blood products transfused in the state are screened by Lagos State accredited partners using WHO-certified methods and labelled with the State Blood Certification logo.
"Recall that Mr Governor, Mr. Babajide Sanwo-Olu, the Honourable Commissioner for Health, Prof. Akin Abayomi and the Permanent Secretary, Lagos State Ministry of Health, Dr Olusegun Ogboye had all condemned the unwholesome practice of transfusing unscreened blood in Lagos State and tasked all health workers both in public and private health facilities as well as stakeholders in the blood transfusion chain on the need to comply and adhere to safe blood transfusion practices to ensure patient safety in blood transfusion procedures".
While noting that there is zero tolerance for the collection and transfusion of unsafe blood and blood products in Lagos State, Osikomaiya appealed to citizens to support the war against unwholesome blood transfusion service by reporting infractions and unwholesome practices when they see any. She also implored health workers and stakeholders involved in the blood transfusion chain, including blood banks, blood donation centres, and logistics firms to adhere strictly to WHO regulations and Lagos State Blood Transfusion laws on blood donation, collection and transfusion.
"This war against unwholesome blood transfusion practices involves and affects every citizen, and as a result, the LBTS will step up the tempo by continuous monitoring of all facilities concerned with blood transfusion, so that we can ensure safe and wholesome blood transfusion chain and guarantee the safety of all citizens residing in Lagos State", She said