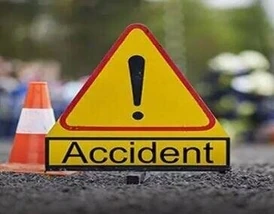 Federal Road Safety Corps (FRSC) confirmed no fewer than five people died on Sunday, while 12 others sustained varying degrees of injuries in an accident near the Foursquare Camp on the Lagos-Ibadan Expressway.
Mrs Florence Okpe, the Public Education Officer of the Federal Road Safety Corps (FRSC) who confirm the incident explained that the accident involved a DAF truck marked, KMC 810 ZB, a Toyota bus marked, TMA-244b XA and a Mitsubishi pickup van with no registration number.
The FRSC spokeswoman said the accident occured at about 6:15 a.m. and was caused by excessive speeding, tyre blowout and loss of control on the part of the driver of the truck.
She noted that due to the tyre blowout and loss of control, the truck fell and blocked the road, noting that both the bus and the pickup van rammed into the fallen truck.
Okpe disclosed that 21 people were involved in the multiple crash, saying that 12 people were injured while five people died.
She stated that the injured people were taken to Victory Hospital in Ogere, near Abeokuta for medical attention while the dead were deposited at a morgue in Ipara community, near Abeokuta.
Okpe quoted the Ogun State Sector Commander of the FRSC, Mr Anthony Uga, as advising motorists to desist from using sub-standard tyres and to also apply common sense while driving in this rainy season.
The sector commander sympathised with families of the victims, advising them to visit the Ogunmakin Unit of the FRSC for more information on the accident.