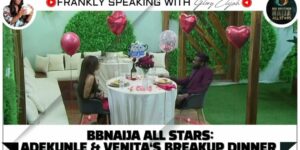 BBNaija AllStars housemate, Venita, was seen shedding tears in the bathroom after her planned dinner for two with her love interest, Adekunle, didn't go as expected.
While speaking to Angel, a fellow housemate, about why she was upset, the mother of two revealed that Adekunle made a joke about her attending his naming ceremony, implying he might not be interested in pursuing a relationship outside the house.
Apart from this incident, her emotional state and tears might have been triggered by some recent tension they experienced in their relationship.
On Sunday, Venita bought a dinner for two from the special shopping cart Big Brother provided.
The dinner was set up on Friday night after their failed wager presentation. During the dinner, there was noticeable tension as their conversations felt forced.
In what appeared to be an uncomfortable experience for both of them, Adekunle questioned Venita about a statement she made during a task where she mentioned not wanting any "salty" people on her. team.
He asked if he was the housemate she referred to, but Venita denied it.
She also asked if she could move out of their shared bed, to which Adekunle assured her it was fine since it was originally her bed.
The dinner ended with Adekunle quietly leaving the dinner table with plates of food in hand.
That night, Adekunle prepared Tolanibaj's old bed for himself, and they slept on separate beds for the first time in a long while.
Some viewers believe Venita might be overreacting, while others question whether they genuinely expected their relationship to work.
Adekunle x Venita last night 🥹

Venita — Adekunle carry what you need to carry and go back inside or come back

Adekunle — I'm not coming back

A — Then don't come back

See below 👇🏾#bbnaija #bbnaijaallstars pic.twitter.com/Qbk5zzXxLm

— Sabi Radio (@TheSabiRadio) September 23, 2023
Angel – What caused the fight ?

Venita – Adekunle was making jokes about me coming to his child's naming ceremony, so I was like… this is weird.pic.twitter.com/WdqdVal9by

— YabaLeftOnline (@yabaleftonline) September 23, 2023