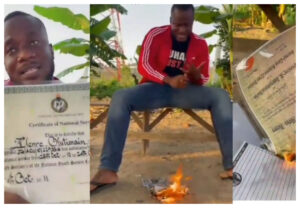 A man identified as Olutimain, has explained why he destroyed his original diplomas, which included his JAMB, NYSC, Bachelor of Arts, and secondary school diplomas.
The Ajayi Crowther University history and international studies graduate said in a video posted on social media on Monday that he made the decision due to a lack of employment and that the current state of affairs in the nation has made his degrees meaningless
He said, "Getting a certificate in this country is like a waste of time."
Ilenre went on to say that the certifications are meaningless even for international travel.
He mentioned that he had not been able to sleep for the past week after realizing that none of the tasks he had performed over the previous 13 years required his certifications.
He went on to say that individuals should study handwork given the current state of affairs in the nation. He asked parents to give their kids the freedom to learn trades and handicrafts.
According to him, "I finished school in 2010 and did my NYSC in 2010/2011; till today, I haven't used these certificates to get a job," Ilenre said.