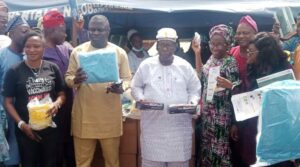 …Flagg off campaign against Lassa Fever, Diphtheria, other diseases
The Oyo State Commissioner for Health, Dr. Oluwaserimi Ajetunmobi has said the administration of Governor Seyi Makinde remained committed to equipping and fixing more Primary Health Care Centres to ensure that residents in nooks and crannies of the state have quick access to health care.
Dr Ajetunmobi added that as part of the government's commitment to improving access to free healthcare services for children, pregnant women, and mothers, the state government will start the maternal and child health week for vaccination and other services on Monday.
The Commissioner made this known while speaking at the flagged off of the campaign against five priority diseases namely; Lassa Fever, COVID-19, Diphtheria, Cholera, and Anthrax.
The community sensitization programme, which is to take place in 10 local government areas of Oke Ogun and in markets in Ibadan, the state capital was started in Okeho, headquarters of Kajola Local Government.
However, Ajetunmobi at the event stressed that the five priority diseases were preventable once people lived in a clean environment, saying a clean source of water, healthy eating habits, adherence to a balanced diet, and a good disposal system were key to preventing some of the diseases.
She affirmed that vaccination and regular medical check-ups are beneficial for health and well-being, saying that the recurrence of some diseases was because people do not complete the vaccine as prescribed.
The State Coordinator of the World Health Organisation (WHO), Dzorto Philips, in his address, enumerated the need for people to wash their hands before and after eating, keep their surroundings clean, and take immunization seriously.
Also, the Director/Secretary, of Kajola Local Government Health Authority, Okeho, Mr Abayomi Kolawole, recalled that Kajola Local Government had records of Lassa fever last year, noting that the sensitisation would prevent a recurrence of the priority diseases in the local government area this year.
Kolawole stressed the importance of health education on personal hygiene and environmental sanitation.
He also appealed to residents of the council to embrace immunization as a preventive measure against childhood killer diseases such as diphtheria, tuberculosis, measles, and meningitis.
The event had representatives of the United Nations Children's Fund (UNICEF), Nigerian Center for Disease Control (NCDC), Breakthrough Action Nigeria, APIN Public Health Initiative, local government areas, and the traditional institution