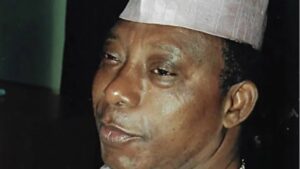 Former Chief of Army Staff, Major General Chris Alli (rtd), is reportedly dead.
Born in December 1944, he retired from the Nigerian Army as a Major General.
He served as Chief of Army Staff from 1993 to 1994 under General Sani Abacha's regime and was military governor of Plateau State Nigeria from August 1985 to 1986 during the military regime of General Ibrahim Babangida.
Many years later, he was appointed interim administrator of Plateau State during a 2004 crisis in the state following ethno-religious killings in Shendam, Yelwa Local Government.
On retirement from the military, he wrote a book entitled: 'The Federal Republic of Nigerian Army: The Siege of a Nation'.
While writing about his book, Gen Alli noted, "This book is not an indictment of the military of which I was part. It is my perception of the conduct of my generation and the multifarious forces at work amongst and about them. It is not a verdict on society; rather it is an articulation of the ecstasy, the fears, the constrictions of a nation in turmoil, a nation pulling itself apart."
General Ali was a member of The Guardian Editorial Board before his demise.