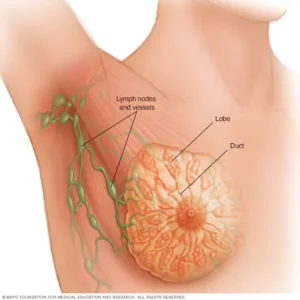 Breast Cancer Awareness Month Is A Month-long Global Campaign Dedicated To Educating Individuals About Breast Cancer Awareness Month is a month-long global campaign dedicated to educating individuals about breast cancer and encouraging proactive measures for early detection.
It provides a platform for advocacy, fundraising, and support for breast cancer patients and survivors with the goal of empowering both men and women to take control of their breast health.
This month offers a chance to spread awareness, encourage women to take care of their health, support research efforts, and offer information and assist those who have been affected.
To accomplish this, idanNews spoke with a doctor Toluwanimi Aduloju who talked about how to detect and prevent breast cancer.
The expert advises both men and women to always check their breasts to ensure it's lumps-free.
According to the experts, he said men may also develop breast cancer at a lesser risk, advising all and sundry to take their health seriously.
She said "Women may choose to become familiar with their breasts by occasionally inspecting their breasts during a breast self-exam for breast awareness. If there is a new change, lumps or other unusual signs in your breasts, talk to your doctor promptly.
She added "Breast awareness can't prevent breast cancer, but it may help you to better understand the normal changes that your breasts undergo and identify any unusual signs and symptoms.
During a street interview, one Miss Fatimah said she used to examine her breasts twice a week.
While Kafilat Omolara said, "I don't always check it though it's important but I don't always remember."